COMMISSIONS & ASSIGNMENTS

Her quick eye for "the beauty shot" and years of capturing the fast-paced action of professional sport have made her a much sought-after photographer - - from family portraits to corporate assignments.

June takes editorial assignments and commissions for industry, of humans being, sporting events, gardens, landscapes, and is always open to challenging work. June seeks both travel and adventure writers of repute with story ideas for top-flight editorial as well as ingenious corporate clients who see the value of sending a first rate sports photographer to capture employees at work in outdoor venues for annual reports. Have hard hat... will travel.

New for 2006 from June Harrison Photography for Architects and Home Interior Design Professionals: Glass Walls with Embedded Photography.

See June Harrison's Multi-TILE Murals for Custom Made Home Design & Décor Projects for: kitchen backsplashes, bathroom, pool and spa. Click here. Inquiries welcomed from corporate art buyers, space planners, home builders, real estate developers, sports facility & restaurant developers. Send June an email about Custom TILE and Glass WALL installation.

She has recently completed a promotional and documentary shoot for Briarcliff Sod of Peconic, New York on the North Fork of Long Island and selections from her Tennis Champions Collection are now hanging on the walls of The Racquet Club in East Hampton. June is also available to lecture on travel and sports photography.

What personal or business project do you have in mind?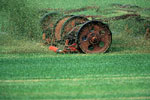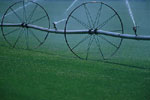 Briarcliff Sod, Peconic, NY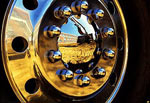 Worth Construction